It is hard to imagine that where 92 percent of respondents to a recent survey of the Stikland Industrial City Improvement District survey indicated that they feel safe in the area, only five years ago the picture looked vastly different. Then 37 percent of respondents said they felt unsafe.
The same percentage had a very positive perception on the cleanliness of the area, while the rest said it was fairly clean. The positive ratings differed between good (37 per cent), very good (33 per cent) and excellent (22 percent). Five years ago, 81 percent of respondents complained about litter in Stikland Industria, and also expressed concern about illegal posters and graffiti.
The general rating of public areas is now 81 percent positive against 30 percent five years ago. Satisfaction with street lighting as well as street signage and markings stands now at 82 percent against 32 percent five years ago.
Fewer respondents indicated that they have problems with vagrancy and vendors – 68 per cent in 2012 versus 14 percent now.
This amazing turnaround can be attributed to the city improvement district that was established for the Stikland Industrial Area in September 2013.  As part of the process a perception study had to be done and this was repeated for the second generation business plan for the period 2018 to 2022.
In 2012 a group of concerned Stikland property and business owners decided to do something about the neglect and disrepair of public and municipal infrastructure in this once well established Industrial area, where the main focus is on the manufacturing and sales of vehicles and parts, as well as the  food and beverages industry.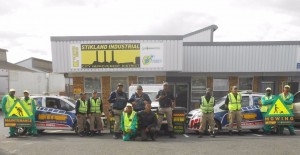 The Special Ratings Area model was chosen to counter urban decay and rising levels of crime.
With the vision to promote and maintain a safe, clean and well managed industrial area that will attract and retain industrial and retail business operators, the following goals amongst others were set for the CID:
the improvement of public safety by means of visible patrolling and co-operation with the South African Police Service, the City of Cape Town's Law Enforcement agencies and security service providers,
the cleaning of streets, pavements and public areas,
the protection of public and municipal infrastructure; and
To promote in this process also greening, energy efficiency, recycling and risk and disaster management.
Statistics show that during the past five years more than 2000 persons were approached in public areas in assistance to SAPS and other law enforcement agencies, almost 1500 members of the public were assisted in some or other way, 29 fires, accidents and medical emergencies were attended to and 32 arrests were executed.
The number of warnings issues were 382 for bin scratching, 152 for drinking in public and 204 for shopping trolleys and wheelie bins abandoned.
With regard to urban cleaning and disrepair, more than 30 000 bags of litter was collected, 102 illegal dumping sites cleared and 175 strings and cable ties removed. Hundreds of urban defects and service requests were logged, including the removal of dead trees and shrubs and dead animals, and many illegal posters were removed